Cheval Blanc is one of our favorite Pasadena French restaurants (it's named after the famous and pricey French wine).  Every time we order a bottle of wine just to be paid a visit by the sommelier, a delightful grand-fatherly gentlemen who walks with a limp and speaks with a thick French accent.  You can see his pleasure in introducing every bottle and he always makes a second visit to ensure you're enjoying the wine with your meal.
During the Fall/Winter seasons the menu is alive with hearty provincial French dishes such as beef bourguignon, coq au vin, and my absolute favorite, cassoulet.  Cassoulet is a stew, typically served with duck, pork, and sausage, piled over white beans in a thick broth.  At Cheval Blanc the dish arrives in its own lidded pot, opened table side.  The steam fills your nose with the scent of rich spiced meat.  It's wonderful.
When our friends H+M joined us for dinner last week I mentioned that I wanted to make duck and they remarked that they generally weren't fans.  No, no I said. This would not do.  Duck is delicious and I was determined to serve them a dish they would enjoy, so I made cassoulet with duck confit.
In my version I made the duck confit (confit means the food has been cooked in its own fat) in my sous vide machine so I could cook it slowly and patiently with less duck fat than it would typically take to confit in the oven.  Duck confit is tender, juicy, and full of flavor.  When sitting atop a cassoulet alongside pork, sausage, and beans it's absolutely divine.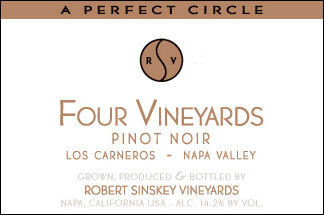 I didn't serve the cassoulet with a Cheval Blanc (which can cost as much as 12k a bottle for a vintage classic), but Big N selected  a fine pairing: 2004 Robert Sinskey Four Vineyards Pinot Noir in the Los Carneros area of Napa.  Carneros is on the colder side of Napa, away from the valley floor where they grow bold cabernets, and the wine produced there tastes of dark fruits, cherries, plum, with a bit of spice and a nice earthiness.  This one had some age on it, making it lighter and mellower so as not to overpower the delicate but rich duck.  It was a beautiful match.
And, after one bite of my cassoulet and one sip of this beautiful wine, H+M were duck converts.
This recipe takes some time and a bit of preparation, not to mention access to a good butcher or market that carries both duck and duck fat.  But it's worth the effort.  Cassoulet is the perfect cold weather dish.  With three kinds of meat plus beans the dish is quite rich, so I suggest skipping a heavy lunch if you know cassoulet is on the menu at dinnertime.  Your guests will surely be duck converts too.
Duck Confit Sous Vide & Cassoulet
Print recipe
| | |
| --- | --- |
| Serves | 4 |
| Prep time | 30 hours |
| Cook time | 3 hours |
| Total time | 33 hours |
| Meal type | Main Dish |
| Region | French |
Ingredients
Confit
4 Duck legs with thighs attached
1 cup Duck fat
2 tablespoons Quatre Epices (French "4 spice" mix of black pepper (1 Tbs ground); ground clove (2 tsp); ground ginger (1 tsp); ground nutmeg (1 tsp))
3 tablespoons Kosher salt
2 Bay leaves
4 cloves Garlic
4 sprigs Thyme
Cassoulet
3/4 lb Dried White Beans (Great Northern (my choice); Cannellini; or Navy)
3/4 lb Boneless pork shoulder (Cut into 1 1/2" cubes)
2 Onions (Medium dice)
1-2 Carrots (Medium dice)
2 cloves Garlic
1/2 lb Garlic Pork Sausage (Split in half length wise, or remove casing and crumble up)
1 Bouquet garni (Wrap a few parsley stems, 1 bay leaf, 3-4 cloves, 5-6 black peppercorns, and 2-3 sprigs thyme in cheesecloth and tie with kitchen twine.)
Crumb Topping
2 cloves Garlic (Minced)
1 cup Bread crumbs
2 tablespoons Olive oil
Salt/pepper
2 tablespoons Parsley (Flat leaf, chopped finely)
Directions
| | |
| --- | --- |
| 1. | Pick through beans to remove any stones. Place in bowl, covered with water by a few inches, and let soak overnight. |
| 2. | Prepare duck for confit: Mix Quatre Epices (4-spice blend) with kosher salt. Crumble bay leaves very finely in your hand and add to spice mixture. Wash and pat dry duck legs and generously rub both sides with spice mixture. Let sit, covered, overnight (or upt to 48 hours) in refrigerator. Then wipe off or gently wash off spice mixture and pat dry. |
| 3. | Sous vide the duck: Heat water in sous vide machine to 185 degrees. Place 2 duck legs in a vacuum sealable bag and the other 2 in another bag. Split the chopped garlic, thyme and the duck fat between the bags. Add a pinch of kosher salt to each bag, then vacuum seal, removing as much air as possible. Add bags to water and sous vide for 5-6 hours (you can sous vide for up to 8 hours if you have the time). (The confit can be done a day or two ahead of time. Store bags unopened in the refrigerator). |
| 4. | While the duck is going, place the cubed pork shoulder in a dutch oven. Cover with water by a few inches. Add the bouquet garni and simmer, uncovered, for 1 hour 15 minutes. Skim the skum regularly. |
| 5. | Next add the rinsed and drained beans, onions, carrots, and garlic and simmer until beans are just tender, 45 minutes to 90 minutes depending on the size of your beans. |
| 6. | When the confit is done, remove the duck from the bags (reserve your duck fat for use again, see note) and pat dry. In a heavy bottomed very hot pan, add a little of the reserved duck fat and sear duck until browned and crispy on both sides. Remove duck and set aside. |
| 7. | In the same pan, add the sausage and cook until just browned. |
| 8. | Preheat oven to 375. When the pork and beans are done (the beans just turned soft), set a bowl under a collander and drain pork and bean mixture, saving all the liquid. Add salt and pepper to flavor the liquid and stir until salt is dissolved. |
| 9. | Add the beans and pork to a large casserole dish or roasting pan. Place the duck legs on top, nestling the legs in the beans. Then sprinkle the sausage around the duck. Pour some of your reserved cooking liquid into your casserole dish so the liquid nearly covers the beans and comes just part of the way up the duck legs. Bake uncovered for 30 minutes. |
| 10. | While the cassoulet is baking, prepare the crumb mixture. Cook garlic in oil in a skillet until fragrant, then add bread crumbs, salt, and pepper and cook until bread crumbs are golden. Transfer to a bowl and stir in chopped parsley. |
| 11. | When the cassoulet is done, serve it by spooning some pork, sausage, and beans on the bottom, topped with a duck leg. Sprinkle crumb mixture over the beans. |
| 12. | Enjoy! |