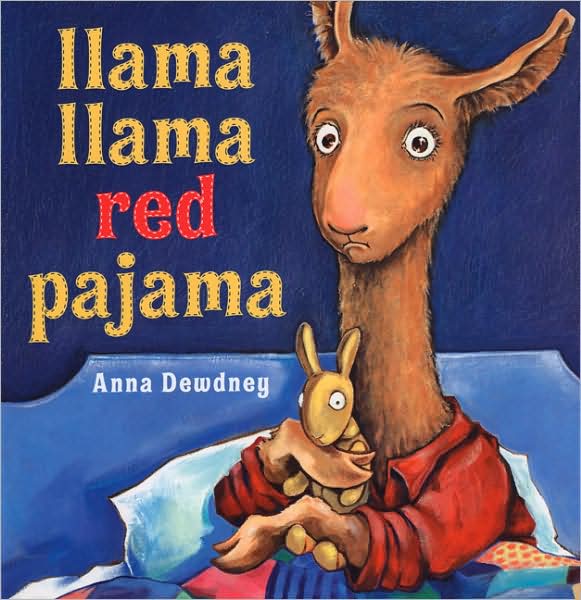 My beautiful boy turned 1 year old on October 12th.  To celebrate his first amazing year we invited 40 friends and family members to the house for an outdoor party.
I chose a Llama Llama theme.  Llama what, you ask?  Llama Llama Red Pajama is Fin's absolute favorite book.  He loves it so much, that when we passed a children's store featuring the book in the window, he spotted it, laughed hysterically, then threw a fit as we rolled past in his stroller. That is until we took him back in the store to read him the book.  That was 4 months ago.  Since then we've picked up the entire Llama Llama series and read one of them every night.  It's our ritual.
Going with the red theme, I made red brownie and cookie dough cake pops, a first for me.  Cake pops are the trendy rage these days.  They were a little trickier than I thought they'd be to make pretty, and probably looked liked they were made by my son.  But they were tasty, if not a little on the too-sweet side.  (If you want to learn how to make them I refer you to the cake pop expert, Bakerella.  I have no business giving lessons on cake pops).  I bought the cake pop stand on Etsy.
I also made red velvet whoopie pies with vanilla bean frosting, and purchased a Llama Llama cake that I had custom made from the talented folks at Jill's.  I sent them a link to the book and they created the cake.  Pretty neat, eh?  Griffin instantly loved the cake when he saw Llama Llama perched on top.
I used a cake that I made in baking class that I had in the freezer as a smash cake for Griffin- because what's a first birthday party without a little cake smashing?  For his part, Griffin was a little apprehensive at first, then dived right in once he tasted the butter cream.  We also borrowed from Korean tradition and placed a bunch of objects in front of Griffin to see which one he'd select, thus predicting his future career.  We used a harmonica (musician), book (scholar), ball (athlete), dollar bill (entrepreneur), and fishing reel (Dad's idea…).  Apparently destined to follow in Dad's footsteps, Griffin chose the dollar bill first, then the fishing reel, to the utter delight of the crowd.
Griffin had a fine time at his party, laughing and impressing the guests with his new walking skills.
Can you guess what costume I'm making for Griffin for Halloween???